EXHIBIT 5.2 Average Length of Stay by Payer
PDF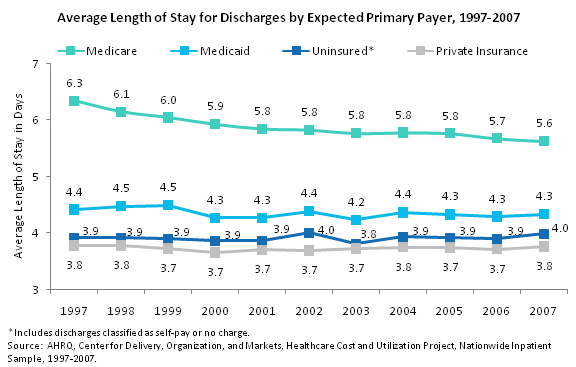 From 1997 to 2007, the average length of stay (ALOS) for hospitalizations declined from 4.8 days to 4.6 days (see Exhibit 1.2). However, the ALOS varied by payer and most of the reduction in ALOS over the decade came from Medicare alone.
The ALOS for stays billed to Medicare decreased substantially from 1997 to 2007 (from 6.3 days to 5.6 days). However, the ALOS for stays covered by Medicaid, uninsured, and private insurance remained relatively stable over time.
In 2007, hospital stays billed to Medicare had the greatest ALOS (5.6 days), followed by those billed to Medicaid (4.3 days), uninsured (4.0 days), and private insurance (3.8 days). This pattern was consistent throughout all years from 1997 through 2007.