EXHIBIT 5.7 Growth in Body System Conditions: All Payers
PDF
Exhibits 5.7 through 5.11 explore some of the main reasons for rapid growth in inpatient hospitalizations for each payer group between 1997 and 2007. Exhibit 5.7 examines change in discharges by body system for all payers. Exhibits 5.8-5.11 present discharges by payer within body systems for selected conditions that experienced important changes.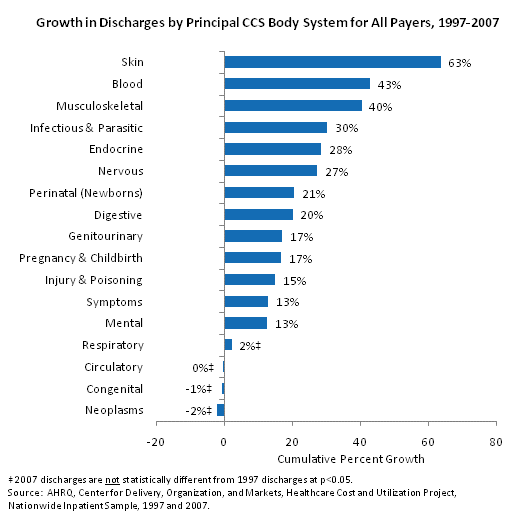 Growth in discharges by principal CCS body system for all payers, 1997 through 2007. Bar chart. Cumulative percent growth. Skin: 63%; blood: 43%; musculoskeletal: 40%; infectious and parasitic: 30%; endocrine: 28%; nervous: 27%; perinatal (newborns): 21%; digestive: 20%; genitourinary: 17%; pregnancy and childbirth: 17%; injury and poisoning: 15%; symptoms: 13%; mental: 13%; respiratory: 2%; circulatory: 0%; congenital: -1%; neoplasms: -2%.
Note: For respiratory, circulatory, congenital, and neoplasms, 2007 discharges are not statistically different from 1997 discharges at p is less than 0.05.
From 1997 to 2007, the number of discharges increased by 14 percent. By body system, however, the growth in major reasons for hospitalization ranged from no growth to an increase of 63 percent.
Discharges with skin and subcutaneous tissue disorders grew rapidly at 63 percent. Other rapidly growing reasons for hospital stays included blood disorders (up 43 percent) and musculoskeletal conditions (up 40 percent).
The number of discharges with neoplasms, congenital, circulatory, and respiratory conditions as the principal reason for the hospital stay changed very little from 1997 to 2007.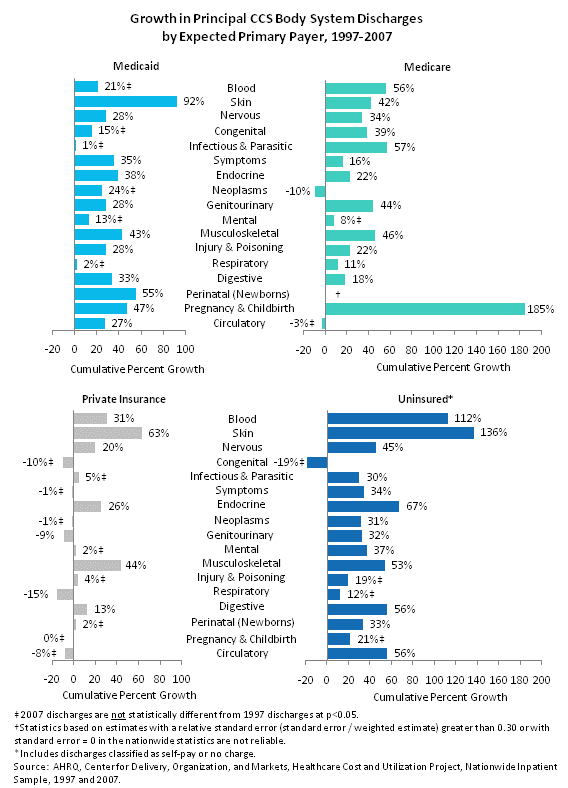 From 1997 to 2007, hospitalizations by body systems exhibited different growths by payer.
There was large growth in Medicaid stays for skin (92 percent), perinatal/newborns (55 percent), pregnancy and childbirth (47 percent), and musculoskeletal (43 percent) discharges. There was no growth in discharges for blood, congenital, infectious and parasitic, neoplasms, mental, or respiratory conditions.
For Medicare stays, pregnancy and childbirth hospitalizations, although relatively few in number (16,400 in 1997 and 46,700 in 2007), grew by 185 percent. Infectious and parasitic conditions (up 57 percent) and blood disorders (up 56 percent) also rose rapidly. Stays for neoplasms declined by 10 percent. There was no change in stays for mental or circulatory conditions.
There was rapid growth in stays billed to private insurance for skin conditions (63 percent), musculoskeletal conditions (44 percent), blood disorders (31 percent), and endocrine conditions (26 percent). For most other body systems, the growth in discharges was small or declining, a reflection of the decline in overall private insurance enrollment.
For uninsured stays, large increases in body system hospitalizations occurred in skin (136 percent), blood (112 percent), and endocrine (67 percent) conditions. There was no significant change in uninsured discharges for congenital, injury and poisoning, respiratory, and pregnancy and childbirth conditions.
Hospitalizations for some body system conditions increased rapidly across all payers.
Hospital stays for skin conditions rose 92 percent for Medicaid, 42 percent for Medicare, 63 percent for private insurance, and 136 percent for the uninsured.
There was rapid growth in stays for endocrine conditions billed to Medicaid (38 percent), Medicare (22 percent), private insurance (26 percent), and the uninsured (67 percent).
Discharges for digestive conditions billed to Medicaid grew by 33 percent, to Medicare by 18 percent, to private insurance by 13 percent, and to the uninsured by 56 percent.
For musculoskeletal conditions, growth in discharges for each major expected payer was consistently high: Medicaid at 43 percent, Medicare at 46 percent, private insurance at 44 percent, and uninsured at 53 percent.
There was rapid growth in stays for nervous conditions across all payers: Medicaid at 28 percent, Medicare at 34 percent, private insurance at 20 percent, and uninsured at 45 percent.